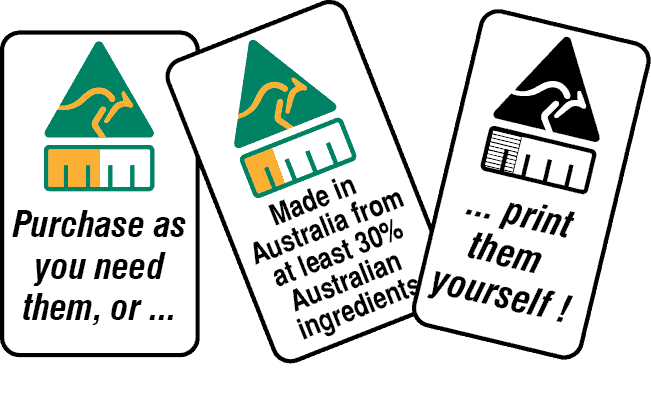 Barcode Print can create personalised labels for all situations as well as custom colour labels which can include video shops, wine labels (personalised wedding, christmas, annual events), customer loyalty cards, membership cards and even classification labels.
Barcode Print can take a blank label and print your colour company logo and any variable data onto it. (Sizes vary apon stock kept on shelf).
With a qualified and expert graphic design team at Barcode Print we can design for you with high standards and quality.
Our print bureau can take the bother – and cost – out of compliance for variable Australian content percentage labelling:
24hr turnaround for coloured labels or black-and-white Country of Origin labels – Australia wide

Country of Origin plus, say, Nutritional Panel, Barcode, etc., can be supplied on one label, as required
You can print these labels in standard black-and-white… the most economical approach to variable Australian content percentage labelling, or

"Two-colour Batch Printing", enabling you to effortlessly print the green and yellow variables as your supply situation changes… at minimal capital outlay.
Still confused or wondering if you need Country of Origin Food Labels? Click on the image for more information from the Food Standards website. Or click on the button below to contact us.