Description

OKI's Pro1040 and Pro1050 Label Printers help businesses to capture more attention through creative labels. This four or five colour narrow format label printer is easy to set up and requires minimal training to use. Built to meet the needs of customers who desire a wider choice of label designs, yet print a lower print-volume to reduce stock and wastage, the OKI Pro1040 or Pro1050 prints in CMYK or CMYKW, enabling creativity and flexibility in label designs across a range of materials. The Pro1050 provides users the enhanced flexibility that comes from printing on transparent or coloured label media.
Profitable on-demand printing in-house – short-run colour label printing capability that supports new revenue streams
The OKI Pro1040 / 50 provides manufacturers and small label providers the ability to offer on demand short run colour label printing services. Access a lucrative new revenue stream and customer base by offering personalised and highly individual labels for products or events. With minimal training required and flexible configuration, the Pro1040 / 50 Label Printers deliver internal label printing capability across a broad array of different tasks.
Generate additional revenue and grow your business by winning new customers
No need for proofing; print creative label designs in the exact quantity you need
Set up new jobs in minutes
Multiple uses from product labelling to food, beverage, cosmetic, electrical device and horticulture, the opportunities are endless
Media Flexibility –  Print on a huge range of different label media
The Pro1040/50's superb media handling capability makes it easy to print on a huge range of media including textured papers and synthetics, to capture attention and help sell products. And, with a minimum volume of a single label and no set up requirements, labels can be highly tailored to specific campaigns or customer requirements. The Pro1050 include white, clear, opaque or coloured substrates.
On demand printing of rolls of different media including paper and synthetic film
Print labels for outdoor use, freezer and cold storage, food, beverages and household goods
Labels can be printed and cut to produce a roll of labels
Pro1050 Bringing a new colour dimension to labels – fifth colour or CMYK option enables greater flexibility in label design
Combining digital LED together with dry toner technology, the 5 colour (CMYK+1) label printer, allows for greater flexibility in label design. The white can be used to create exceptional designs on coloured or metallised effect substrates (gold and silver) which are difficult to print using other digital technologies. Capture attention with unique eye-catching labels without impacting costs.
Intricately designed labels  on transparent or coloured labels are now possible in house
Print white typeface on clear or coloured backgrounds to clearly highlight your messages
Print promotional or secuirty labels at the touch of a button
All this without impacting the cost of a label
Eye-catching labels – stand out from the crowd and attract the target audience
Ideally suited to brand owners and print houses, the Pro Series 1040 Label Printer is designed to print any quantity from a single label to many thousands. Only print what you need reducing wastage and saving valuable time and budget. With the same High Definition Colour printing and digital LED technology as OKI's Graphic Arts Printers, the OKI Pro1040/50 brings creative printing to life with vibrant colours and high quality output at 1200 dpi.
Maximise the value of each label to make products more compelling
Capture and highlight the unique characteristics of product content
Enables businesses to take on creative ideas and complex job types
High Definition Colour label printing at 1200 dpi in-house saves wastage and money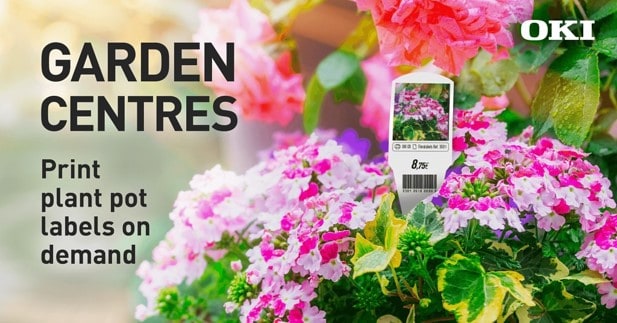 Robust water/chemical resistant printing – for labels that survive underwater and resist UV fading
Print waterproof labels that are robust and resistant to UV fading and have also been tested to survive underwater. These waterproof labels meet EU standards. Under EU rules, some two-colour labels must survive for up to three months underwater without the label or printed matter coming away or significantly disintegrating. Using the synthetic 'Teslin' material, the Pro1040/50 can be used to produce multiple-colour narrow-format waterproof labels that have been tested to survive underwater for the duration of the EU-mandated period.
Ideal for product naming labels and warning labels
Waterproof labelling for horticulture, where plant and tree labels must withstand wet conditions
Print outdoor labels resistant to UV fading for up to one year
Adhere to EU regulations with two-colour labels by printing on 'Teslin' material